BIOGRAPHY

Mr. Confuse is a Hannover/Germany based producer, label owner and DJ. He is a record collector since 1993, started DJing in 1999 and is producing and composing music since 2004. From day one his unique style is defined by two of the rarest achievements within music creation – creativity and authenticity. Over a decade of hard work, carrying on, practicing, elevating and fine-tuning his style can be heard in every minute of his music.
PROJECTS: Mr. Confuse, Sans Soleil, Confunktion Records, (in former times) Breakout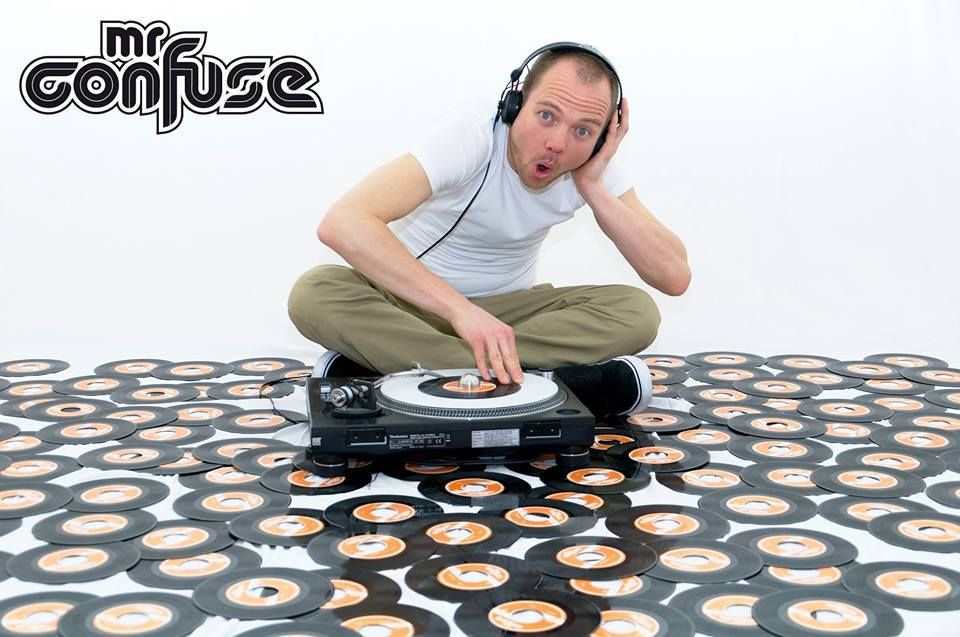 MUSIC AND REMIXES: info[at]mrconfuse[dot]com
BOOKING: booking[at]mrconfuse[dot]com
WEB: www.mrconfuse.com
Mr. Confuse producer, label owner and DJ.
Finest in funk since 1999.
NOW AND FUTURE
Currently Mr. Confuse is working on his 5th studio album, released two 7Inches on his own label Confunktion Records and several remixes including artist like 'Turntill', 'The Uptown Felaz', 'Kartahla 72', 'Afternoons In Stereo', 'Grand Mother's Funck feat. AKIL the MC of Jurassic 5' and 'Tom Eno' as well as being constantly on tour as DJ and/or Soundsystem – booking[at]mrconfuse[dot]com

SOUNDSYSTEM
'The Mr. Confuse Soundsystem' is coming to ya! Mr. Confuse and a multi instrumentalist have teamed up as the Mr. Confuse Soundsystem. Mr. Confuse has been working with a lot of musicians on lots of his productions in the studio for many years. So the idea behind the Soundsystem was to have a dynamic DJ-Set-live-hybrid-performance adding saxophone, percussion or loops and synthesizer sounds.
DO YOU REALIZE – THE REMIXES
Following the release of 'Do You Realize' the North German DJ, producer and composer delivers a full length Remix-Album of "Do You Realize" with a stunning roster of international remixers who each had their personal take on one of the tracks from the album. The result is a diversified bag full of dance floor goodies, ranging from Electro Funk to Ghetto Funk, from Electronic Bossa to Funky Breaks and Jazzy Breakbeat.
Connoisseurs of the independent funk and electronic scene will enjoy going through the list of remixers who contributed on this fine Mr. Confuse release.
Well known British producers like Lack Of Afro (Freestyle Records), Newcastle's own Smoove (Jalapeno Records), up and coming producer Daytoner (Wass Records), among the excellent bossa breaks remix production of Dr Rubberfunk (Jalapeno Records) and an exciting remix on the jazzy tip by Tom Eno (Jack To Phono Records) are representing the UK remixer scene.
The album also features contributions by Hungary's finest producer team The Uptown Felaz (Shiftin' Gears Records), Poland's Przaśnik (Funky Mamas And Papas Recordings) and Germany's block-rocking Ghetto Funk producers Funkanomics (Big M Productions) together with well known German Electro Funk expert Funkmaster Ozone (Da Source Records) and fresh new faces like Salem & Bastino – not to forget Afternoons In Stereo (Timewarp Music) from Toronto/Canada and a rare appearance of Dublex Inc (INFRACom!).
This makes "Do You Realize – The Remixes" a truly global affair and a perfect companion to the original release. Check out the "Man Made" and "Boogie Down" EPs, two special 12inch vinyl editions focussing on the Man Parrish cover versions of the same name on "Do You Realize", featuring key remixes from the album digital release.
Read more about 'Do You Realize – The Remixes' and listen to it right here on mrconfuse.com
DO YOU REALIZE
'Do You Realize' is the question which Mr. Confuse asks on his second full length album. With nearly three years in the making after the debut 'Feel The Fire' it comes as a massive plea for the power of funk. 'Do You Realize' is about being true to the groove, carries strong lyrical statements while touching political matters as well as social issues in its clever and heartfelt lyrics but is first and foremost, of course, about being real.
On 'Do You Realize' Mr. Confuse picks up on the distinctive, organic and powerful sound he introduced on 'Feel The Fire' and takes it a step further. 'Do You Realize' tells a story from the beginning to the end: 'We Gonna Bring The Funk To You' with featured singer and main vocalist 'Dan Salem' allows no second thoughts as a perfect opener and leads into 'Catch Me', the first single release. In a total of 13 tracks and with full-on party tunes like 'Never Let The Rhythm Go' and 'Let's Get The Feeling' the album keeps a steady pace. The second single releases 'Too Hot' and the conscious and soulful 'Why Can't You See Me' carries 'Do You Realize' to the perfect ending with the moving soul ballad 'Cool Smooth Waters' introducing the mighty soul voice of Mrs Elaine Thomas.
It would not be a true Mr. Confuse album if it would not pay tribute to a musical pioneer. With his versions of 'Boogie Down (Bronx)' (with the voice of well know German Reggae artist Benjie) and 'Man Made' (featuring Dan Salem) Mr. Confuse pays tribute to Man Parrish as one of the innovators who translated Funk and Boogie into the HipHop-Era of early Electro and Freestyle. 'Do You Realize' comes as an apt title then.
With 'Do You Realize" Mr. Confuse is not only expanding his trademark sound but the album also introduces him as a musical director with an open ear for the bigger picture. With up to 23 international musicians he created incredible sounding big arrangements you would rather expect from the good times of big studios from the 60s and 70s. Here is a producer who not only reveals a deep understanding of the rhythms ranging from Afro to Soul and from classic R&B to HipHop, but who also has a vision of translating history into the future. 'Do You Realize'? Indeed we do!
Read more about 'Do You Realize' and listen to it right here on mrconfuse.com
FEEL THE FIRE – THE REMIXES
2009 continued with 'Feel The Fire – The Remixes' which is available digitally and includes all remixes of the three 12inch vinyl plus never released before versions. Including remixes by:
Smoove (Newcastle UK – Jalapeno / Wack Records), Lack of Afro (Surrey UK – Freestyle Records), AIFF (Dordrecht Netherlands – Unique Records), Rephrase (Sydney Australia – Good Groove / Knowfool Records), Ed Royal (Innsbruck Austria – Innvision Records), Thomas Blondet (Washington DC USA – Rhythm & Culture Recordings / 202 Digital), Una Mas Trio (Braunschweig Germany – Agogo Records), Mash & Munkee (Kiel/Wuppertal Germany – Backslide Records), The Uptown Felaz (Budapest Hungary – WahWah 45s), Daytoner (Cornwall UK – Wack Records), JetTricks (London UK – Légère Recordings), Afro Latin Vintage Orchestra (Paris France – Masta Conga), Alan De Lanaire (Paris France – L&G Records)
Read more about 'Feel The Fire – The Remixes' and listen to it right here on mrconfuse.com
MR. CONFUSE & THE CONFUSERS – FEEL THE FIRE – LIVE
Mr. Confuse's live band 'Mr. Confuse & The Confusers' was called to existence with a heavy horn section of seven players and true Hammond C3 sound.
Usually it is the other way around. When a band is formed they jam, they rehearse, they start playing it live in clubs and on small venues, local festivals – whatever – and then they record something in the studio. From the beginning of this project the score was to transform the accurately studio album into a live performance being as powerful as the recording. Therefore it was naturally that there had to be a big horn section and tight drums right from the start…
Mr. Confuse talks about the beginning of the Mr. Confuse & The Confusers: "…I have been using a Sampler ever since I'm involved into music as my main instrument. I'm not sure if you can call a Sampler really an instrument so I would end up calling me rather a music programmer than actually a musician playing notes… For me music creation and composing has always been a process of making music out of music or any kind of sounds.
No matter if it is recording on a record, something I recorded or played on my own or actually recordings I did with other musicians in the studio – I always end up chopping everything in order to have more freedom to program, compose, arrange and rearrange everything till it suites my thoughts… Anyway, after using over 10.000 samples for "Feel The Fire" it was really a amazing experience for me putting together a Band, with Matthias Brennecke who realized all the sheet music and the incredible live arrangements, so that the band could actually play these songs. Although people are playing live for centuries paradoxically it really felt fresh to me in a way…"
At present "Mr. Confuse & The Confusers" are a band of 14, with a horn section of seven and Hammond C3 organ appearing as an impressive breaks big band.
Read more about Mr. Confuse and The Confusers and listen to it right here on mrconfuse.com
FEEL THE FIRE
Mr. Confuse has always been a traveller between the styles: In September 2008 his first solo album 'Feel The Fire' was released on DLP, CD and digital download. On 'Feel The Fire' are cover versions of Debbie Deb's Freestyle-Electro-Classics 'Lookout Weekend' and 'When I Hear Music' in a heavy seventies Funk style. The 12inch version of 'Lookout Weekend' sold out quickly, but even three years after its original release the track is still a steady download seller. 2009 saw two more 12 inches following the album with the 'Do It Right Now' and the 'Imóvel' EPs. Mr. Confuse was also invited to feature on the first release on the 7inch label 'Freesoul45 Records' with two massive HipHop instrumental tunes that year.
Mr. Confuse decided to produce "Feel The Fire" in a kind of style which is typical for HipHop: "I work sampler based.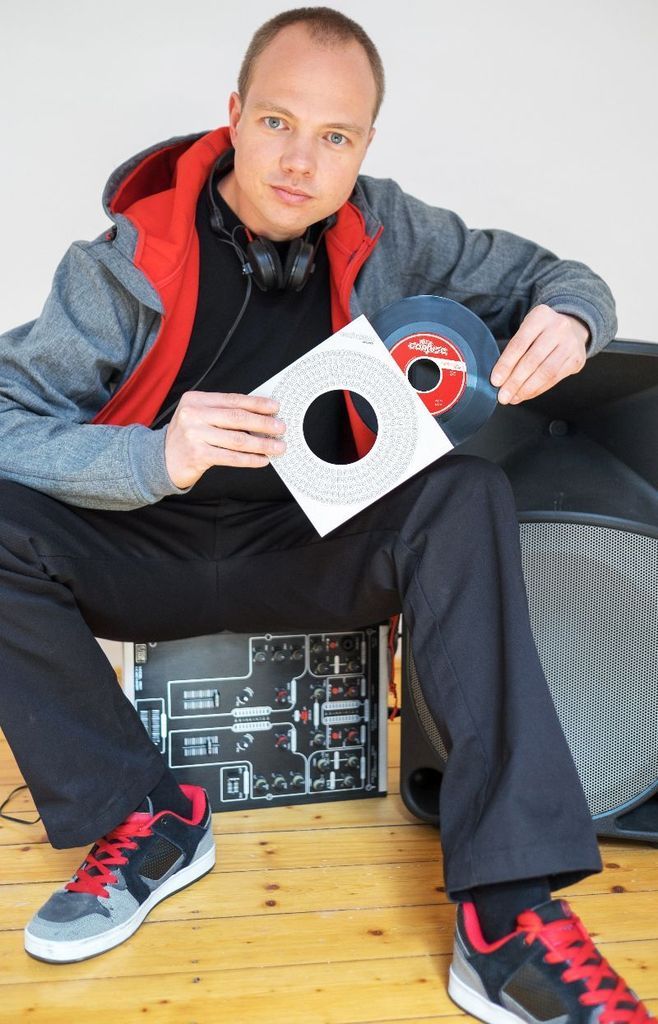 You look for parts of drum loops and other pieces in a record and build new music from it. This album was created in exactly that way." But sampling alone is not enough: "When the structure is there I will go and meet the musicians I work with. I work pretty much autodidactic and very intuitive – this can turn out really bizarre from time to time. Sometimes I'm humming or buzzing the melody I'm looking for to the musicians. I do not play an instrument myself, except that I use the MIDI-Keyboard to be able to work with Plug-ins and think of melody and rhythm. The musicians I work with will turn the ideas which I have in my head into music."
This concept is as exciting as it is hard work: "I will return to my Sampler with what the musicians played and often do a completely new cut. You may say that I use a musician as a sample library." Consequently recording "Feel The Fire" took quite some time, exactly "from the end of 2006 up to January 2008. In the end the complete album consists now of about 10.000 samples. To finish an album like that it is a matter of sweat and tears …".
So it comes as no surprise that Mr. Confuse can very clearly define his references and inspiration: "At the moment everything is Electro or Techno actually at least in my town. The sound is very much Eighties, so clean, full of Synthies and 808 programming. When we did Breakout in the summer of 2005 we felt completely different. It was all too clean for us, especially the mixes. I draw my influences from HipHop and I wanted to work on something I can identify with. HipHop is pretty much the only style I like in the Eighties, apart from Punk probably. Today everything sounds so calculated. It was the snare in the Eighties, today it is the Kick drum. What I tried is to transfer the idea, better say the musical basis of HipHop, from the Nineties back to today. This is what it was like in the Nineties: HipHop tried to transform the sounds of the Sixties and Seventies into the here and now. So it was just natural for me that I tried to keep my sound dirty like it was in the Sixties and Seventies. My main idea by doing songs like "Planet Rock" or "Lookout Weekend" was to put the Eighties back into Seventies or Sixties by using technology of the Nineties – got it!? In the UK and elsewhere there are so many new bands who release handmade organic sounding Sixties and Seventies music right now and I think that is brilliant – it sounds authentic!"
Read more about 'Feel The Fire' and listen to it right here on mrconfuse.com
CONFUNKTION MIXES

In 2007 Mr. Confuse started his DJ-Mix-Series 'Confunktion' (Confunktion Vol. 1 – 2007, Confunktion Vol. 2 – 2008 and Confunktion Vol. 3 – 2012) and introduced his very own definition of 'Wildstylefunk' ranging from various styles combined on one club mix.
"Jazz-Punk-Soul-Latin-MashUp-DnB-Balkan-Funk-Brazil-Rap-Afro-Boogie-Electro-Funk" call it what you want these Mixes deliver old and new, 60s & 70s rare grooves, modern Clubtunes all mixed in heavy dance floor rotation. Due to the digital DJing hype before and from 2007 he established a little note on his MixCDs saying: "Mixed with real Vinyl for your listening pleasure". As a tribute to the old days of real MixTapes all MixCDs are about 45min, which is equal to one side of a 90min real tape cassette – not too short not too long.
Visit Mr. Confuse's Mixcloud to listen to the Confunktion series and other Mixes: www.mixcloud.com/mrconfuse
Want to hear this live in your club or on your venue? Don't hesitate and get in contact: booking[at]mrconfuse[dot]com
BREAKOUT – YEARS
PLANET ROCK, DON'T STOP! As a member of the Breakout crew in 2005 Mr. Confuse came up with the idea of reworking the 80s classic 'Planet Rock' by Afrika Bambaataa in his very own way by transforming it into a heavy funk tune. It was produced in the studio by using sampling technologies, who were recorded by Breakout (Mr. Confuse, Info & Kova). Every recorded musical line was then cutted note for note and the whole samples were rearranged by Breakout.
In the end Breakout's 'Planet Rock' version was made of more than 1200 samples and the result almost sounds like as if someone digged the original of the song from the 60′s, the version that Afrika Bambaataa could have sampled from, if it would have existed, but it isn't that way, as history has told us.
The tune was released on 7inch as part 1 & 2 and shortly after on 12inch including also a jazzy version of "Planet Rock", Bonus Beats and a complete new song by Breakout on the Melting Pot Music label. The record had a massive international attention in 2006/2007 and got played around the globe by many DJ's, radio stations and music lovers.
The single got played on the radio by: Pete Tong (BBC Radio 1), Gilles Peterson (BBC Radio 1), Eddie Piller (Acid Jazz, BBC), Kev Beadle (Messengers/UK), DJ Day (Eastvillage Radio/USA), Andrew Jervis (Ubiquity/USA), B-Side & Suzi Wong (Coke DJ-Culture On Air/JamFM; BigFM; 89.0 RTL) and by Michael Rütten (Soulpatrol/Compost Radioshow/FM4).
It also went straight into crates of DJ's like: Mad Mats (Raw Fusion/Sweden), Oliver Korthals (Mojo Club/ Germany), Smoove (Acid Jazz Records/UK), Fort Knox Five (Fort Knox Records/USA), Freddie Cruger aka Red Astaire (GAMM/Sweden), Florian Keller (Compost; Party-Keller/Germany), DJ Regal (founder of Wiseguys & Bronx Dogs/Australia) and Mr. Thing (Scratch Perverts/UK).
Other props and club plays came from so different people like: Diesler, Egyptian Lover, DJ Friction, Professor Angel Dust, DJ Z-Trip, Casbah73, DJ Pogo, Ollie Teeba/The Herbaliser, Adrian Gibson/Freestyle Records, DJ Food, Inverse Cinematics, Freddy Fresh, Boozoo Bajou, Kidgusto, Kon and Amir, Mo' Horizons, Yam Who?, DJ Stylewarz & the Stereo Mc´s.
Afrika Bambaataa was asking for copies so that he "CAN JAM THIS MUTHA FUNKER OUT ALL OVER THE WORLD AND THEN THE UNIVERSE!". And he let Breakout know that "BREAKOUT ROCKS TO THE PLANET ROCK DON'T STOP!"
In early 2007 the Breakout project split. In summer 2007 Breakout's final 7inch The Funky Goofball/Lyve Wire was released.
Listen and review all productions by Mr. Confuse when he was a part of Breakout right here on mconfuse.com
EARLY YEARS
Since 1999 Mr. Confuse has always and ever been DJing in Hannover and many spots throughout Germany. Being a musical child of the nineties he was socialised by early nineties Rap / HipHop and trough that with 60s and 70s Funk, Soul, Jazz, Latin and Afro music. Those who know will probably remember venues and clubs such as: Gig Neue Welt, Korn, Faust, Mephisto, Indiego Glocksee, Linden Boulevard, ArtTheater, Apropo, Wohnraum Atelier, Red Orange Club, Cumberlandsche Galerie, Bei Chez Heinz, Platform, 3Raum and many more.