Feel The Fire – LIVE
| October 8th, 2008 | posted in
Albums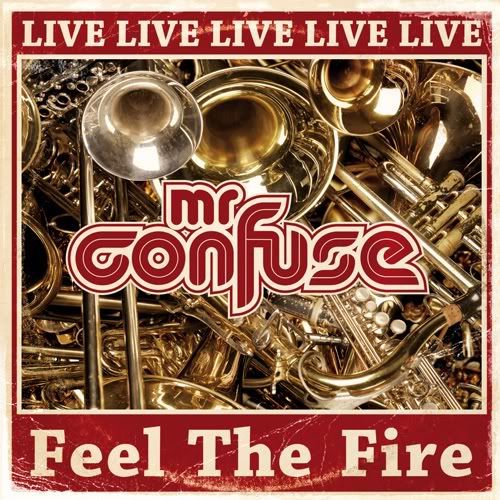 This CD is a live cut from the release party of 'Feel The Fire', the debut solo album by producer, arranger, composer and DJ Mr. Confuse. The release of the album was celebrated with a big party on 27th of September 2008. The party was featured by the Mr. Confuse & The Confusers band – a 13-headed funk-band with a heavy horn section. The gig was performed at the Mephisto Club in Hannover Germany. 'Feel The Fire LIVE' is the recording of this release concert.
The CD features all songs of 'Feel The Fire' as live versions and includes the live music video of 'Lookout Weekend'.
Mr. Confuse & The Confusers are currently a band of 14 players with a horn section of seven and Hammond C3 Organ.
The brass section around trombonist Matthias Brennecke features three tombone player, three saxophone player and one trumpet player . Supported was the band by true Hammond C3 sound of Hakan Türközü.
Feel The Fire – LIVE by MrConfuse & The Confusers
Tracklist
01 Hurricane Jane
02 Lookout Weekend feat. Manoo
03 Going Somewhere
04 Balkan Funk
05 It's Just A Blues feat. Lady Emz
06 Do It Right Now
07 Feel The Fire
08 En Movimiento
09 Groovin' On The Spot
10 The Groove Merchant
11 When I Hear Music feat. Steffanie Feindt
12 Imóvel
13 The Arrrgh Theme
Release concert line up
Szabolcs Smid – trumpet
Simo Schneider – alto sax
Marc Figge – tenor sax
Matthias Oßwald – baritone sax
Uli Dobner – trombone
Matthias Brennecke – trombone
Ralf Hüsemann – trombone
Hakan Türközü – organ
Henrik Pfeiffer – guitar
René Sandoval – bass
Renato Scherrer – drums
Manuela Scheidt, "Manoo" – vocals
Stephanie Feindt – vocals
Mr. Confuse – electronics
Special Guests
•    Spanish Singer Emma Pratsevall Pujadas a.k.a. Lady Emz – specially flown in from Barcelona
•    Bassist Martin "Margot" Gontarski (Ex-Spice)

Lookout Weekend LIVE
Mr. Confuse & The Confusers playing the Mr. Confuse album song "Lookout Weekend". "Lookout Weekend" is from the album "Feel The Fire" and a Cover Version of the Latin-Freestyle-Electro Classic as originally performed by Debbie Deb and produced by Pretty Tony Butler.
Mr. Confuse talks about the beginning of the Mr. Confuse & The Confusers
"I have been using a Sampler ever since I'm involved into music as my main instrument. I'm not sure if you can call a Sampler really an instrument so I would end up calling me rather a music programmer than actually a musician playing notes… For me music creation and composing has always been a process of making music out of music or any kind of sounds. No matter if it is a recording on a record, something I recorded or played on my own or actually recordings I did with other musicians in the studio – I always end up chopping everything in order to have more freedom to program, compose, arrange and rearrange everything till it suites my thoughts… Anyway, after using over 10.000 samples for "Feel The Fire" it was really a amazing experience for me putting together a Band, with Matthias Brennecke who realized all the sheet music and the incredible live arrangements, so that the band could actually play these songs. Although people are playing live for centuries paradoxically it really felt fresh to me in a way…"
About Feel The Fire
Mr. Confuse is a traveller between the styles. Collecting 14 tracks on his album Mr. Confuse takes us on an excursion from HipHop to Afro, Electro and Latin back to Funk. "Feel The Fire" comes as an organic statement for the analogue link between HipHop and Funk as well as an authentic and up-to-date plea for the original brass arrangements in the Funk and Jazz music of the Seventies.
The first single "Lookout Weekend" was released in May – including remixes by Lack Of Afro and Mash & Munkee and found a massive attention in the international funk/breaks scene.
View photos of Mr. Confuse & the Confusers