Do You Realize
| April 13th, 2012 | posted in
Albums
DLP | CD | digital release
'Do You Realize' is the question which Mr. Confuse asks on his second full length album. With nearly three years in the making after the debut 'Feel The Fire' it comes as a massive plea for the power of funk. 'Do You Realize' is about being true to the groove, carries strong lyrical statements while touching political matters as well as social issues in its clever and heartfelt lyrics but is first and foremost, of course, about being real.
Tracklist
01 We Gonna Bring The Funk To You – feat. Dan Salem
02 Catch Me – feat. Dan Salem
03 Big Livin' – feat. Lady EmZ
04 Boogie Down – feat. Benjie
05 Let's Get The Feeling – feat. Elaine Thomas
06 Never Let The Rhythm Go – feat. Georgie B.
07 Do You Realize – feat. Marc Figge
08 Man Made – feat. Dan Salem
09 I Know Your Love Is True – feat. Dan Salem
10 Hold On – feat. Dan Salem
11 Why Can't You See Me – feat. Elaine Thomas
12 Too Hot – feat. Elaine Thomas and Dan Salem
13 Cool Smooth Waters – feat. Elaine Thomas
On 'Do You Realize' Mr. Confuse picks up on the distinctive, organic and powerful sound he introduced on 'Feel The Fire' and takes it a step further. 'Do You Realize' tells a story from the beginning to the end: 'We Gonna Bring The Funk To You' with featured singer and main vocalist Dan Salem allows no second thoughts as a perfect opener and leads into 'Catch Me', the first single release. In a total of 13 tracks and with fullon party tunes like 'Never Let The Rhythm Go' and 'Let's Get The Feeling' the album keeps a steady pace. The second single releases 'Too Hot' and the conscious and soulful 'Why Can't You See Me' carries 'Do You Realize' to the perfect ending with the moving soul ballad 'Cool Smooth Waters' introducing the mighty soul voice of Mrs Elaine Thomas.
It would not be a true Mr. Confuse album if it would not pay tribute to a musical pioneer. With his versions of 'Boogie Down (Bronx)' (with the voice of well know German Reggae artist Benjie) and 'Man Made' (featuring Dan Salem) Mr. Confuse pays tribute to Man Parrish as one of the innovators who translated Funk and Boogie into the HipHop-Era of early Electro and Freestyle. 'Do You Realize' comes as an apt title then.
Accompanying the album there will be a colourful bunch of remixes released in various formats. Remixes by well known producers such as Smoove, Dr. Rubberfunk, Lack Of Afro, Daytoner, The Uptown Felaz, Tom Eno, Przasnik and Funkmaster Ozone amongst many others show Mr. Confuse's respect for the remix culture, something which was always a major part in the career of the producer from Hannover/Germany who started DJing in 1999 and is producing and composing his own music since 2004. As a member of the Breakout crew in 2005 Mr. Confuse came up with the idea of reworking the 80s classic 'Planet Rock' by Afrika Bambaataa and transforming it into a heavy funk tune. Through the years Mr. Confuse released his music and remixes with many international labels (Good Groove, Dominance, Shiftin' Gears and many more) and recorded a collection of different MixCDs.
In September 2008 his first solo album 'Feel The Fire' was released on DLP, CD and digital download. Mr. Confuse's live band 'Mr. Confuse & The Confusers' was called to existence with a heavy horn section of seven players and true Hammond C3 sound also that year. Appearing as 14 musicians strong collective it is an impressive breaks big band. On 'Feel The Fire' are cover versions of Debbie Deb's Freestyle-Electro-Classics 'Lookout Weekend' and 'When I Hear Music' in a heavy seventies Funk style. The 12inch version of 'Lookout Weekend' sold out quickly, but even three years after its original release the track is still a steady download seller. 2009 saw two more 12 inches following the album with the 'Do It Right Now' and the 'Imóvel' EPs. Mr. Confuse was also invited to feature on the first release on the 7inch label 'Freesoul45
Records' with two massive HipHop instrumental tunes that year. 2009 continued with 'Feel The Fire – The Remixes' which is available digitally and includes all remixes of the three 12inch vinyl plus never released before versions.
With 'Do You Realize" Mr. Confuse is not only expanding his trademark sound but the album also introduces him as a musical director with an open ear for the bigger picture. With up to 23 international musicians he created incredible sounding big arrangements you would rather expect from the good times of big studios from the 60s and 70s. Here is a producer who not only reveals a deep understanding of the rhythms ranging from Afro to Soul and from classic R&B to HipHop, but who also has a vision of translating history into the future. 'Do You Realize'? Indeed we do!
View DLP backside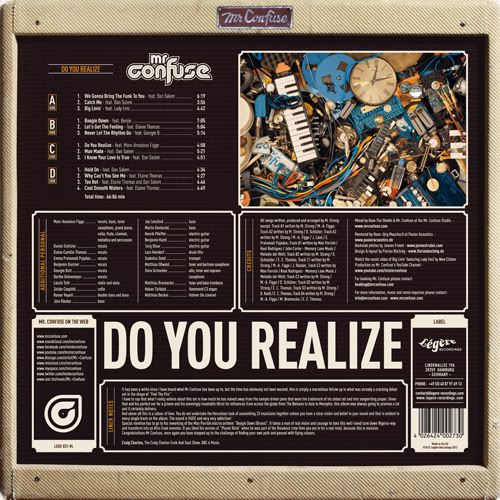 View CD inlay and backside
"Do You Realize" – track by track in the words of Mr. Confuse
We Gonna Bring The Funk To You – yeah indeed we do! This intro to the album takes you right in the middle of a marching band of 23 players screaming, stomping and funking towards more than 60 minutes of Mr. Confuse styled beats and breaks. Mr. Confuse leads this mob right into the following song 'Catch Me'.
Catch Me drops into the rhythm with off taking trumpet line leading into the chorus where 'Catch Me' really catches you with a catchy melody and amazing vocals by Daniel Schlüter. Special on this one is the grooving bass line by Jay Lansford. Usually Jay is known for his magnificent bass play in the punk scene playing since the late 70's. Founding well known bands like 'Simpletones' (from the early L.A. punk scene), 'Channel 3', 'Stepmothers' and 'Gigantor' Jay drops his funky skills on this one.
Big Livin Blues guitar player Tarig Dinar from the US and german bass monster Rainer Reyelt building a massive groove basis for this one, while Emma Pratsevall Pujadas from Barcelona lends her amazing voice to it. Heavy soul strings and lost trombones in the bridge lifting you up, high in the sky and after that the Hammond organ brings you back to groovy earth.
Boogie Down is a slammin' heavy 70's afro-funk version of the 80's hip hop electro classic 'Boogie Down (Bronx)' by Man Parrish. Mr. Confuse takes this 80's classic and drags it kicking and screaming back a decade or two, creating a radically different piece of music and in the process transforms it the very way you listen to the original source material which could have inspired Parrish. On top you got ragga vocals in the hook by reggae scene shooting star Benjie (Def Jam) www.myspace.com/benjie1
Let's Get The Feeling and party on with Mr. Confuse and Elaine Thomas the black pearl from Washington D.C. and hell yeah 'get you back off the wall' and yes of course 'get your feet on the dancefloor' and wave your hands from side to side and clap your hands and get down to the happy funky sound.
Never Let The Rhythm Go On the musical tip this tune has a leading drum 'n' brass style while UK singer Georgie B with her amazing voice adding a deep soulful touch to it. Hot Hammond organ sound and funky tenor sax licks by Matthias Oßwald taking care of the title theme 'Never Let The Rhythm Go' – NEVER, NEVER – LET IT GO!
Do You Realize the albums title is an locomotive afro-funk tune in co-operation with multi instrumentalist Marc Figge on vocals, saxophone and clavinet. The question is old, but in these times more than up to date 'Do You Realize where you coming from and where you going to'. Come on board, free your mind and when the strings appear close your eyes and join Mr. Confuse reflecting about live, time and space.
Man Made is another cover version of Man Parrish following the same concept like 'Boogie Down' kicking the 80's electro sound back to the 70's. The driving brass arrangement keeps a dramatic tension from the first to the last tone and gives this version a cinematic feel. Highlight on this one are once again the incredible vocals by Daniel Schlüter and the panther-screaming Hammond C3 organ solo by Hakan Türközü.
I Know Your Love Is True Take a closer listen to this fine tune and keep wondering how the melody remains playing in your head days after you have been listening to it. Brazil meets Funk meets Industrial and Pop. Eye-/Earmark on this one are the stunning string section by Hungarian players Laszlo Toth (violin and viola) and Zoltan Czegledi (cello) on top of all other massive marching instrumentation creating a powerful atmosphere.
Hold On to the funky sound – again it's singer Daniel Schlüter preaching you to hold on. The uplifting sax line by Marc Figge is really taking you to a higher state before it drops into the brass section punch line.
Why Can't You See Me Mr. Confuse, US singer Elaine Thomas and alto sax player Simo Schneider are calling from the 'dark funk side' – a mean bass line, hard drums, tough brass and powerful vocals driving you trough the night. Highlight on this one is the spoken poetry bridge.
Too Hot this mid tempo tune's bass line got a really nice bluesy groove. Back in the days soul meets heavy drums meets funk rock. Enjoy the incredible guitar play by Benjamin Kastl on this one.
Cool Smooth Waters takes you very smooth to the end of the album. Just close your eyes and enjoy the remarkable voice of Elaine Thomas and let the piano melody work its magic, while the mighty trombone section by Matthias Brennecke takes you over the cool water.

Liner notes
 It has been a while since I have heard what Mr Confuse has been up to, but the time has obviously not been wasted, this is simply a marvellous follow up to what was already a cracking debut set in the shape of "Feel The Fire".

I have to say that what I really admire about this set is how much he has moved away from the sample driven jams that were the trademark of his debut set and into songwriting proper. Given that and his perfect ear for a groove and his seemingly insatiable thirst for influences from across the globe from The Balkans to Asia to Memphis, this album was always going to promise a lot and it certainly delivers.

And above all this is a labour of love. You do not undertake the Herculean task of assembling 23 musicians together unless you have a clear vision and belief in your sound and that is evident in every single track on the album. The sound is HUGE and very very addictive!

Special mention has to go to his reworking of the Man Parrish electro anthem "Boogie Down (Bronx)". It takes a man of real vision and courage to take this well-loved tune down Nigeria-way and transform into an Afro-Funk monster. If you liked his version of "Planet Rock" when he was part of the Breakout crew then you are in for a real treat, because this is massive.

Congratulations Mr Confuse, once again you have stepped up to the challenge of finding your own path and passed with flying colours.

Craig Charles,
The Craig Charles Funk And Soul Show, BBC 6 Music
http://www.bbc.co.uk/6music/shows/funk_soul/
Additional Personal
Marc Figge – vocals, bass, tenor saxophone, grand piano, cello, fute, clavinet, melodica and percussion
Daniel Schlüter – vocals
Elaine Camille Thomas – vocals
Emma Pratsevall Pujadas – vocals
Benjamin Kastner – vocals
Georgie Butt – vocals
Dorthe Grönemeyer – vocals
Laszló Toth – violin and viola
Zoltán Czeglédi – cello
Rainer Reyelt – double bass and bass
Jörn Räuber – bass
Jay Lansford – bass
Martin Gontarski – bass
Henrik Pfeiffer – electric guitar
Benjamin Kastl – electric guitar
Tarig Dinar – electric guitar
Lars Heindorf – drum fills
Szabolcs Smid – trumpet
Matthias Oßwald – tenor and baritone saxophone
Simo Schneider – alto, tenor and soprano saxophone
Matthias Brennecke – tenor and bass trombone
Hakan Türközü – Hammond C3 organ
Matthias Becker – clavinet