Feel The Fire
| September 19th, 2008 | posted in
Albums
DLP | CD | digital release
Mr. Confuse is a traveller between the styles. "Feel The Fire" is the debut solo album by the producer, arranger, composer and DJ from Hannover Germany. Collecting 14 tracks on his album Mr. Confuse takes us on an excursion from HipHop to Afro, Electro and Latin back to Funk. "Feel The Fire" comes as an organic statement for the analogue link between HipHop and Funk as well as an authentic and up-to-date plea for the original brass arrangements in the Funk and Jazz music of the 70s.
Tracklist
01 Hurricane Jane (Introduction)
02 Lookout Weekend feat. Inna Vysotska
03 Going Somewhere
04 Balkan Funk
05 It's Just A Blues feat. Lady Emz
06 Do It Right Now
07 Lay it Down
08 Feel The Fire
09 En Movimiento
10 Groovin' On The Spot
11 The Groove Merchant
12 When I Hear Music feat. Inna Vysotska
13 Imóvel
14 The Arrrgh Theme (Outroduction)
Release Information
As part of the producer team Breakout, Mr. Confuse was a household name in the Funk and HipHop community already in 2006. His idea to reinterpret Afrika Bambaataa's "Planet Rock" as a Funk tune and in a Jazz-Breaks version gained Breakout massive international attention. Breakout split in spring 2007 and released their last 7" "The Funky Goofball/Lyve Wire" during the summer of that year. Mr. Confuse kept being a requested producer. He had numerous of contributions for compilations ("Brazilectro", "Battle Of The Year", Viertelbar, etc.) and released three Mix-CDs ("Catch The Beat", "Confunktion" and "Brazilian Cuts"), using a wide spectrum of styles.
Mr. Confuse decided to produce "Feel The Fire" in a kind of style which is typical for HipHop:  "I work sampler based. You look for parts of drum loops and other pieces in a record and build new music from it." This concept is as exciting as it is hard work: "I will return to my Sampler with what the musicians played and often do a completely new cut. You may say that I use a musician as a sample library." Consequently recording "Feel The Fire" took quite some time. In the end the complete album consists now of about 10000 samples. To finish an album like that it is a matter of sweat and tears …".
On "Feel The Fire" you hear some of Hannover's best musicians – Marc Figge, Martin "Margot" Gontarski (Spice), Lars Heindorf (Sugarhat), trombonist Matthias Brennecke and organ C3 player Hakan Türközü. Percussion comes courtesy of Lionel Berton from Paris, the vocalists are Emma Pujadas a.k.a. Lady EmZ from Barcelona and Jazz singer Inna Vysotska.
So it comes as no surprise that Mr. Confuse can very clearly define his references and inspiration: "At the moment everything is Electro or Techno actually at least in my town. I draw my influences from HipHop and I want to work on something I can identify with. What I tried is to transfer the idea, better say the musical basis of HipHop, from the 90s back to today. So it was just natural for me that I tried to keep my sound dirty like it was in the 60s and 70s. My main idea by doing songs like "Planet Rock" or "Lookout Weekend" was to put the 80s back into 70s or 60s by using technology of the 90s – got it!?
"Feel The Fire" will be released as download, CD and a limited edition double vinyl. The first single "Lookout Weekend" is coming with remixes by Lack Of Afro and Mash & Munkee, the second single "Imóvel" will feature mixes by Rephrase, Smoove, AIFF and The Afro Latin Vintage Orchestra.
View DLP backside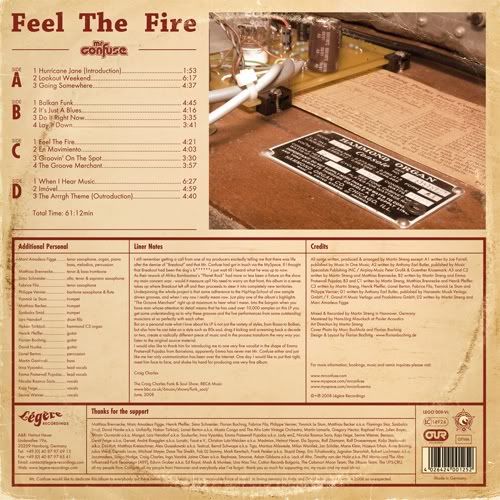 View CD inlay and backside

"Feel The Fire" – Track by track in the words of Mr. Confuse
Hurricane Jane
I am a big fan of Joe Farrell and the CTI Label. "Hurricane Jane" is from Farrell's 1974 album "Penny Arcade". I took a break of that song as a basis for the intro of "Feel The Fire". The drums are not programmed on this track, but being played live by Lars Heindorf from the band Sugarhat.
Lookout Weekend
"Lookout Weekend" is a cover version of Debbie Deb's 1984 single on Jam Packed. A bonafied Latin-Freestyle Electro classic which was originally produced by Tony Butler! I quite like the contrast to turn an 80s track into a Funk track with a dirty bass line.
Going Somewhere
"Going Somewhere" was recorded together with my graphic designer Florian Bochnig who plays the guitar on it. Actually, he is not a professional musician, but his style fits perfectly. The trombone by Matthias Brennecke really moves this song.
Balkan Funk
Coco, Steel & Lovebomb had this 1999 track "Yachts" together with A Man Called Adam. They sampled this 60s Brazilian sounding piano and used it as basis for their song. I found this piano very interesting and inspiring. So I had the idea of doing a similar piano line, but with a horn section and also way faster. This worked out good and gave the Latin sounding piano line, I thought of, a Balkan feeling by being played that fast with a brass section.
It's Just A Blues
Emma Pujadas a.k.a. Lady EmZ from Barcelona is a MySpace connection. I think she has a brilliant voice and thought: Why not work together on something? It took months until I received the parts from her, because she did not have recording equipment at home and had to look for a studio to be able to record the song. In the end it worked out good and she had a brilliant vocal line for the song.
Do It Right Now
Martin "Margot" Gontarski plays bass on this track, Martin actually was the bass player of the well known German funk band Spice. This track features a really nice battle between the Hakan Türközü's Hammond C3 organ and the incredible trumpet play by Szabolcs Smid.
Feel The Fire
"Feel The Fire" is my highlight on the album. Henrik Pfeiffer was working on the guitar for "Lookout Weekend" and this track at the same time, so they both sounds perfect together. Matthias Brennecke plays this incredible bass trombone which goes through the whole track and which makes it really special, just like Lalo Schifrin had this special bass trombone in his soundtracks during the Seventies. We've been doing the sax solo when Simo Schneider came up with the idea to do an interpolation of De La Soul's "Ring Ring" in it.
En Movimiento
This was the last track I recoded for the album. Contrary to the other songs it was completely conceived with samples plus an incredible brass line by Matthias Brennecke.
Groovin' On The Spot
"Groovin' On The Spot" was recorded with Lionel Berton from "The Afro Latin Vintage Orchestra" out of Paris. Lionel is a great percussion player, also to be heard on "The Arrrgh Theme" and "The Groove Merchant". You simply do not find this authentic afro style where I come from. Same goes for a good baritone saxophone.
The Groove Merchant
Hakan Türközü is one of the best Hammond organ players in Hannover. I am happy that he played the Hammond C3 on "The Groove Merchant". After a long recording session for other songs we have been trying the sketch of "The Groove Merchant" just jamming around and at the end of this long day Hakan went really mad on it.
When I Hear Music
"When I Hear Music" is the second Debbie Deb cover version on "Feel The Fire". Inna Vysotska sings on this one as well as on "Lookout Weekend", additional drums come a courtesy of Lars Heindorf a.k.a. DJ Soul Surfer.
Imóvel
"Imóvel" is a collaboration with Marc Figge who is the man behind Mo' Horizons. Marc wrote most of the stuff with Mo' Horizons, he is a versatile and brilliant musician and plays piano, saxophone, bass, German flute, samba percussion, melodica, drums and I do not know what else…
The Arrrgh Theme
The "Outroduction" is dedicated to my graphic designer Florian Bochnig. He has this great street art project called Arrrgh (www.arrrgh.org) which really needs his own theme – and he plays the distorted guitar, of course!
Liner Notes
I still remember getting a call from one of my producers excitedly telling me that there was life after the demise of "Breakout" and that Mr. Confuse had got in touch via the MySpace. If I thought that Breakout had been the dog's b******s just wait till I heard what he was up to now.
As their rework of Afrika Bambaataa's "Planet Rock" had more or less been a fixture on the show my main concern was: – would it measure up? No need to worry on that front, this album in a sense takes up where Breakout left off and then proceeds to steer it into completely new territories.
Underpinning the whole project is that same adherence to the HipHop-School of raw sample driven grooves, and when I say raw I really mean raw. Just play one of the album's highlights "The Groove Merchant" right up at maximum to hear what I mean. Into the bargain when you have man whose attention to detail means that he has used over 10,000 samples on this LP you get some understanding as to why these grooves and the live performances from some outstanding musicians sit so perfectly with each other.
But on a personal note what I love about his LP is not just the variety of styles, from Bossa to Balkan, but also how he can take on a style such as 80s soul, drag it kicking and screaming back a decade or two, create a radically different piece of music and in the process transform the very way you listen to the original source material.
I would also like to thank him for introducing me to one very fine vocalist in the shape of Emma Pratsevall Pujadas from Barcelona, apparently Emma has never met Mr. Confuse either and just like me her only communication has been over the internet. One day I would like to put that right, meet him face to face, and shake his hand for producing one very fine album.

Craig Charles
The Craig Charles Funk & Soul Show, BBC6 Music
www.bbc.co.uk/6music/shows/funk_soul/
June, 2008
Additional Personal
Marc Figge – tenor saxophone, organ, piano, bass, melodica, percussion
Matthias Brennecke – tenor & bass trombone
Simo Schneider – alto, tenor & soprano saxophone
Fabrice Fila – tenor saxophone
Philippe Vernier – baritone saxophone & flute
Yannick Le Stum – trumpet
Szabolcs Smid – trumpet
Matthias Becker – trumpet
Hakan Türközü – Hammond C3 organ
Henrik Pfeiffer – guitar
Florian Bochnig – guitar
David Hanke – guitar
Martin Gontarski – bass
Lionel Berton – percussion
Lars Heindorf – drum fills
Inna Vysotska – lead vocals
Emma Pratsevall Pujadas – lead vocals
Nicolai Rasmus Saris – vocals
Kaja Feige – vocals
Serine Weiner – vocals
Watch the video of 'Lookout Weekend' – LIVE