International Battle Of The Year 2009 – The Soundtrack
| October 16th, 2009 | posted in
Battle Of The Year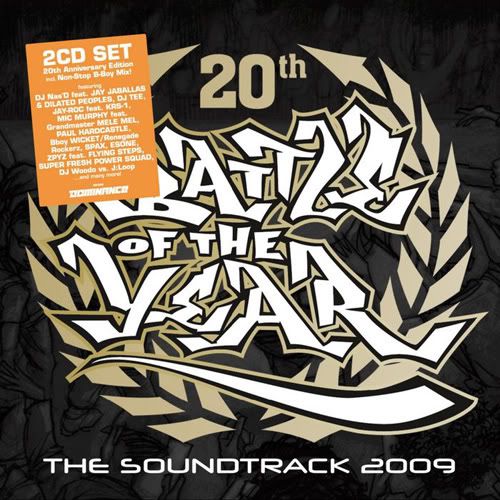 Since the first Battle Of The Year (BOTY) has taken place in 1990, the annual breathtaking competition of international dance formations has become THE world championship of breakdance. In 2008, more than 400 crews with more than 3.000 dancers took part in 26 official elimination contests worldwide to qualify for the final battle in Braunschweig, Germany.
To deliver the diversity of the competition, the BOTY soundtrack includes various artists and styles: from classical Funk with live instruments to Oldschool Hip Hop with an electronic touch and modern House/Disco grooves.
For the 20th Anniversary of the Event, the Soundtrack features a row of high-profile guests. Highlights of this double album, that also includes a non-stop b-boy mix CD, include Jay-Roc's collaboration with US-Rap mentor KRS-1, a brandnewsong by Mic Murphy (known from the 80s Funk/Soul band The System) including a feature by Beatstreet legend Grandmaster Mele Mel, and a new production by UK's Electrofunk guru Paul Hardcastle (Zero One). Dominance Records' resident DJ Nas'D presents a collaboration with Jay Jaballas and the Dilated Peoples. Furthermore the Soundtrack includes exclusive songs by  Bboy Wicket/Renegade Rockers, BOTY-Host Spax, ZPYZ feat. Flying Steps, Super Fresh Power Squad and many more!
The track "Never Let The Rhythm Go" by Mr. Confuse (from the album 'Do You Realize') was also released on Goodgrove Records.

Tracklist
Spax & DJ Nas'D – 20 Years
DJ Pablo – B-Boys War
Esone – Kick It Hard
DJ Kid Stretch – Just Ready To Dance (B.O.T.Y.)
DJ Nas'D – Rising Sun
Bboy Wicket, Renegade Rockerz – Don't Sleep (I Do That)
DJ.M@R – B.Boy Style
DJ Tee – Osaka Outlaw
DJ Woodo vs. J:Loop aka FunKartell, The – Down To Earh
Jay Jaballas – One Of A Kind
Mic Murphy – Electro Soul – Satisfaction
Zpyz – Let It Rain
Fendaheads –  The Leader
Mr. Confuse – Never Let The Rhythm Go
Jay-Roc N' Jakebeatz – The Movement
Super Fresh Power Squad – Copycat
Vim Cortez – Givin' It Up
Paul Hardcastle, Zero One – Over And Over
Brisk Fingaz – Super TNT
Various – 20th Anniversary Non-Stop B-Boy Mix
Aron Shorty –  Rock Da Hous Pt. 2
Color Climax – Disque O Heights
Massive Breakz – Free Your Force
9K Breaks – Soulfood
Calagad 13 – Music Is My Life
DJ Caspa & Suzi Pink Rocket – Explode
Kid Skraam & Devastate – True School Foundation