Brazilectro Session 8
| July 28th, 2006 | posted in
Brazilectro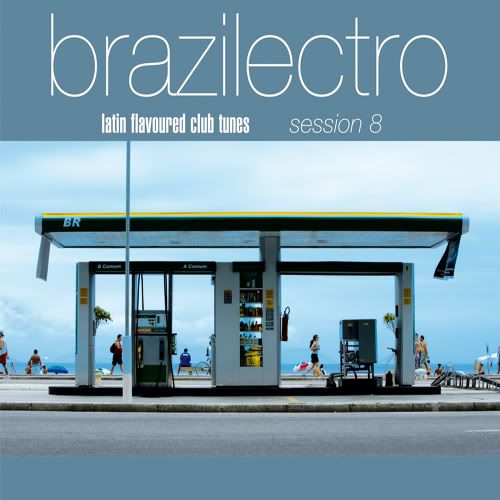 Breakout's track track 'Moonlight Bossa (Nova Version)'
produced by Mr. Confuse, Info & Kova
got compiled on the eighth Brazilectro Session anmong many other well known international artists.
Brazilectro surely counts among the best and most successful compilation series for Latin inspired grooves to date. More than just a term, Brazilectro has become a trademark, constantly reflecting the evolution of a very important musical genre throughout it's beautiful and inspiring years of existence. Session 8 once again adds to the great image of the series and provides yet another top notch collection of only the finest grooves for fans, lovers and those in-the-know alike. Some of the world's leading producers and DJs contributed 26 cherry picked tracks, including seven previously unreleased gems and quite a string of insider faves previously only available on vinyl.
Traditional Brazilian music of a distinct origin fuses easily here with contemporary dancefloor developments and sensual sofa rockers to form a sound which will always stand for important things such as the simple, yet highly effective "joy of life" and that certain "saudade" attitude. But does it work? It always works just fine. No matter the usual stereotypes on Brazil, the folks who live there and the drinks they drink, the inspirational power and positive force of South American music is more than obvious and works miracles in all doses and forms and simply can't be ignored.
Just like all it's predecessors, Brazilectro Session 8 comes as a refined and stylish 2CD / 3LP package, adding to the style and quality that oozes from every single note of music here. No surprise that this heartfelt compilation again works perfectly in multiple dimensions and way beyond any short-life trends or mere fashion. These days, a more updated and even more tasty view on all things Latin is hardly available anywhere else.
Tracklist
A1 Azymuth – Roda Piao (Spiritual South Remix)
A2 Boozoo Bajou – Killer
A3 Ed Royal & DJ Enne – Vamos Irmanos
A4 Quantic & Nickodemus – Mi Swing Es Tropical
B1 Jojo Effect – Not With Me
B2 Breakout – Moonlight Bossa (Nova Version)         
B3 Céu – Lenda
B4 Marcos Valle – Valeu
B5 Unknown Artist – Untitled
C1 Marcos Valle – Valeu (4 Hero Remix)
C2 DJ Day – Sunday
C3 Flamingo Star – Smoothpipe
C4 Club Des Belugas – Early Daiquiris
C5 Jorge Ben – Sou Da Pasada (7 Samurai Afroraduna Mix)
D1 The Fort Knox Five – Blowing Up The Barrio (Mo' Horizons Soundsystem Restyle)
D2 Visioneers – Dirty Old Bossa Nova
D3 Big Bang – To The Full Every Minute (Yam Who? Rework)
D4 Emo – In The Back Of The Car (Nostalgia 77 Remix)
E1 Poncho Sanchez – Watermelon Man (Dan The Automator Remix)
E2 Curv – Cuban Clowns
E3 The Juju Orchestra –    Dia Brasil
E4 Under Pressure – Near The Ocean
E5 PLSS – Pointless
F1 Drumagick – Esquina Firmeza
F2 Timax – Funky Brasilia
F3 S-Tone Inc. – Beira Do Mar
F4 Joe Bataan – Ernestine (Lemon Remix)
View backside