Lookout Weekend
| May 5th, 2008 | posted in
12inches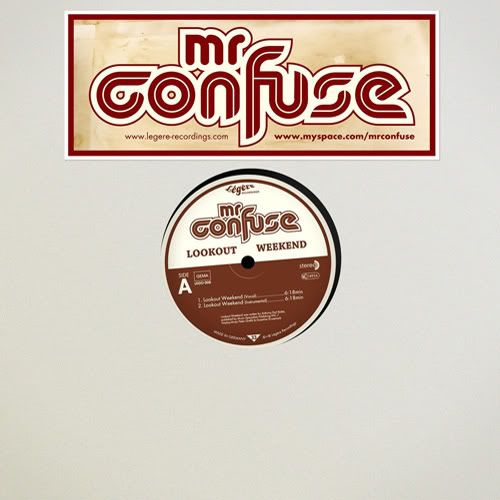 "Lookout Weekend" is the first single from "Feel The Fire", the upcoming debut album by Mr. Confuse to be released in autumn 2008. For this release Mr. Confuse is checking in with a cover version of Debbie Deb's electro classic in true organic funk style with an incredible Horn section, while Lack Of Afro spices things up with an authentic deep funk mix.
Mr. Confuse is no stranger to the world of funk and breaks. In early 2005 he founded a producer team called Breakout. Being a crafted producer and songwriter he came up with the idea of reworking the 80s classic "Planet Rock" by Afrika Bambaataa and transformed it into a heavy funk tune. The tune was released on 7" and shortly after on 12" including a jazzy version of "Planet Rock" which gained massive worldwide respect.
In early 2007 the Breakout project split, but it remained a busy year for Mr. Confuse working solo. After several contributions to renowned compilations he focused on working on "Feel The Fire". He is delivering a brilliant funk-, latin, afro- and break-flavour on his forthcoming album with additional features of a total of twenty-one musicians from Paris, Barcelona and all over Germany.
Bonus remix madness on this "Lookout Weekend" 12" comes courtesy of the German Beat merchants Mash & Munkee from Backslide Records, who give Mr. Confuse's secret Afro-Funk classic "Groovin' On The Spot" a excellent Re-work for the dancefloor.
Tracklist
A1 Lookout Weekend (Original Vocal)
A2 Lookout Weekend (Instrumental)
B1 Groovin' On The Spot (Mash & Munkee Remix)
B2 Lookout Weekend (Lack Of Afro Deep Funk Remix)
B3 Lookout Weekend (A Cappella)
View label